Golden Dorado
Golden Dorado are native to South America and are notorious for being one of the most aggressive game fish. The Parana River, where Estancia Puerto Buey is located, has the largest, most abundant population of dorado in the world. Dorado have a massive skull and jaw structure which they use to hunt baitfish. These aggressive predators hit your fly with such force, you might think that you are stuck on a rock or a log. Once hooked, dorado are known to leap several feet out of the water as you fight to reel them in and avoid line burns. Dorado fishing is typically conducted from a motorized boat, along the banks of the main river or within the swamp water channels. Here, you can also fish for Pacu, Tararira and Surubi.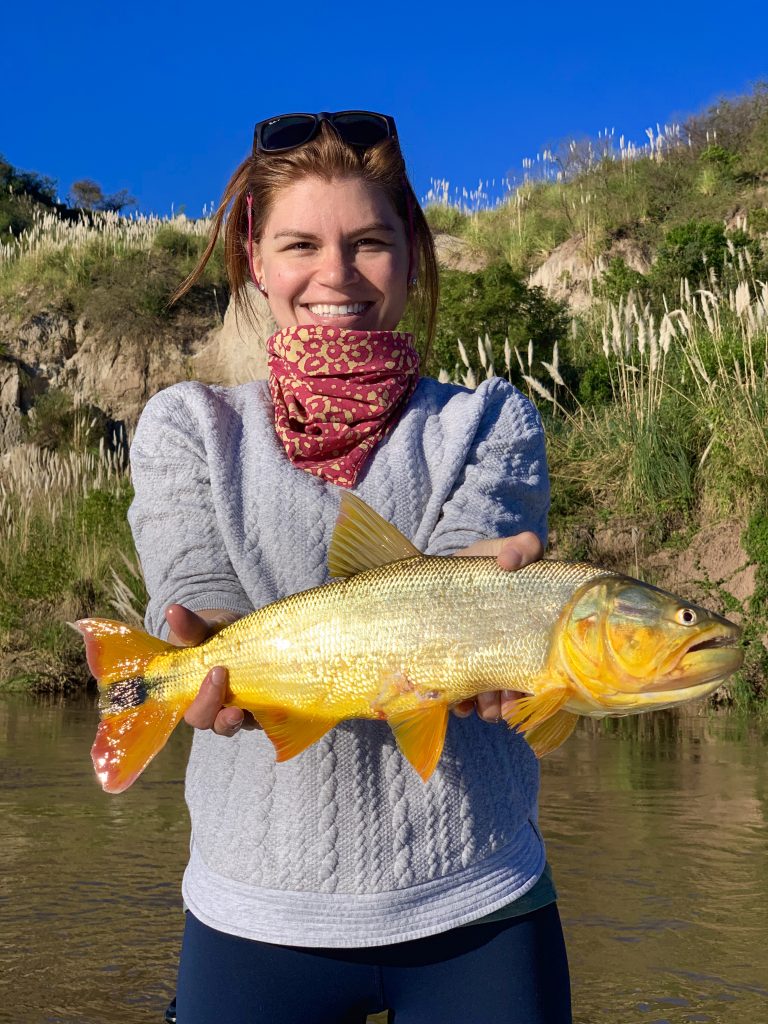 This activity is offered year-round, with peak season from June through August. Puerto Buey and Posada del Muelle are located on the Parana and Corrientes Rivers respectively. Guests can choose to stay at either lodge or we can arrange a multi-day float trip that includes nights at both lodges.
Riverland Outfitters was just featured on the adventure tourism show, El Señuelo. Check out the videos here. Join Sergio and Papucho as they spend two days fishing for golden dorados from Puerto Buey.
Trout and Salmon
Patagonia is home to some of the most breathtaking scenery in the world. Surrounded by snowcapped mountains, turquoise lakes and picturesque rivers, is our Corcovado Lodge. Our fishing program explores a variety of lakes and rivers where guests can float and wade for trout and salmon. Anglers will have the rivers to themselves as there are more trout than fisherman. Guests have the opportunity to throw large dry flies, streamers or nymphs, depending on their preference and the river that they are exploring. This region is world known for its trophy sized rainbow, brown and brook trout.
The Corcovado River comes out of Lake Vintter, a large lake situated on the border between Argentina and Chile. During its course, the river turns 180 degrees and eventually pours into the Pacific Ocean. Around 35 years ago, chinook salmon, native to Alaska, were introduced to these rivers where they continue to migrate and spawn. Year after year, the population of chinook salmon continues to grow. Due to the fact that its natural predators, such as the grizzly bear and wolves, are not found in Patagonia, these fish are able to grow quite substantially. Chinook salmon are noted for their size, which can exceed 55 pounds. Females start arriving in October and November and the males arrive in January.